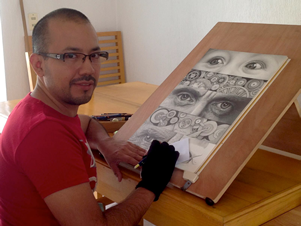 Hi my name is Gabriel Serna, i´d like to tell you a little bit about myself.
I was born in San Luis Potosí, Mexico, for the past 30 years i have lived in México City until 3 years ago i relocated here in Nayarit. My earliest memories are of drawing and painting, ever since i was a little boy i´ve had this passion of what i´d like to called the wonderful world of art, although i didn´t know much about drawing or painting, my hands always managed to find a magic pencil that always helped me to create and in a way expressed my self to people around me.
I was influenced by one of my brothers, since he drew and painted from an early age also . Although my brother left the painting from a young age I always wanted to do what he did and was as well as my 10 years I stole (although I prefer to say that I borrowed) one of his paintings for my first attempt at oil painting. The unfortunate thing is that the canvas already had a painting done by him, a beautiful Flamingos surely still there, very well protected by landscape that I did over his painting.
I did not paint again until two years later, when I was in high school I did 3 paintings more and of course I kept drawing. Because I am a self taught artist, my work does not always turn out as I wanted and often frustration was present, but I was finally doing what I was passionate about both, paint!
In the following years, did not draw or I painted a lot, because I was working in other companies and only drawing or painting in my free time . Because of this, between my 15 and 22 I made only seven oil paintings, in my 25 years I did one more and another at 27, plus many drawings, but because of my work I was no longer possible to paint more and opted for neglecting the art .
And so, as if it were a single flash went 10 years without paint or draw, until two years ago I decided to return to art, have gradually taken up drawing and painting with the idea soon make my first exhibition.
Well, that's only a small part of my life and I hope that from now on, you can enjoy my Work. Soon I'll be updating the page with all the work you perform and do not forget to leave me your comments.
Greetings !
Gabriel Serna